Please follow and like us:
After Greg Lemons was elected mayor of Abita Springs, Louisiana, in 2012, residents of the 2,500-person city started coming to him to complain about a local landowner's plan to lease about 60,000 acres to Helis Oil & Gas for hydraulic fracturing, known as fracking. Although area voters supported Donald Trump in the 2016 election, they were concerned that the company's plans to drill through the aquifer the town relies on—the former spa town sells Abita-branded spring water and beer—could compromise its economic livelihood.
Lemons, a lifelong Republican who spent his career in the banking technology industry, initially felt the deal would be positive for the town, but he decided to investigate anyway. "I'm an engineer by trade, so I said, 'I need to do a little research on this,'" he recalled. "I read everything I could online." He started traveling to other fracking sites to learn more. The resulting three-year journey led him through western Pennsylvania, central Texas, and northern Louisiana.
He visited a Pennsylvania couple who demonstrated the methane intrusion into their water table by turning on their faucet and setting the liquid on fire. He toured a denuded fracking site north of Shreveport, where all the wildlife had been driven off and the compressor's rumbling could be heard two miles away. And he visited a drilling site in Texas where workers all wore hazardous-waste suits and respirators as children played in a park less than two city blocks away, he said.
"Those three things were pivotal to me," said Lemons. "They changed my whole perspective."
Lemons is one of multiple Republican mayors who attended the Global Climate Action Summit in San Francisco last week to promote their commitments to curbing carbon emissions. Another was James Brainard, mayor of the Indianapolis suburb of Carmel, Indiana. Brainard spoke from the main stage on behalf of a coalition of more than 3,500 public, private-sector, and faith-based leaders across the United States who have committed to continue supporting the Paris climate agreement. More than 280 cities and counties have signed on to the effort, dubbed We Are Still In, from Iowa City to Grand Rapids to Hoboken.
"Mayors in both parties have been working on this for decades, because we're closest to our constituents," said Brainard. "I point out to these younger colleagues that there's no Democratic or Republican way to fill potholes or plow snow, and climate should be nonpartisan because our planet demands it."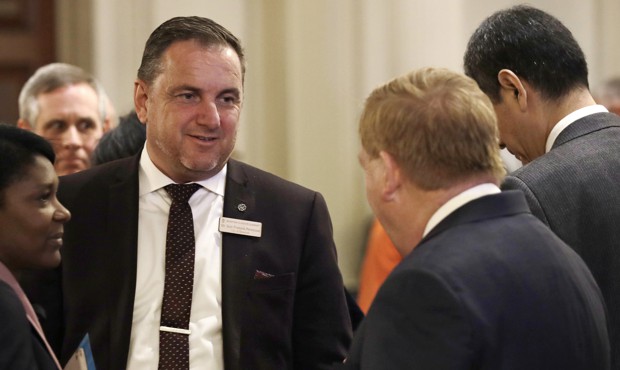 In communities around the country, citizens are reaching across the aisle on issues like protecting local air and water resources, and promoting the economic development that new industries like solar and wind can provide. The economic opportunity is massive: Between now and 2030, the world faces a gap of between $320 billion and $480 billion a year in the spending needed on renewables and energy efficiency to meet the Paris goals, according to a report released in June.
In Blacksburg, Virginia—a college town in a county that narrowly voted for Hillary Clinton over Donald Trump in 2016—Democratic and Republican statehouse candidates last year both opposed a new natural-gas pipeline proposed for the county. Last December, city-council members pledged to shift to getting 100 percent of Blacksburg's energy from renewable sources by 2050.
Eileen Quigley, director of the Clean Energy Transition Institute, has been working for two decades to help small and medium-sized cities throughout the Pacific Northwest cut greenhouse-gas emissions and switch from fossil fuels to green energy sources. The number-one thing she's learned about how to bring more conservative communities on board, she said: "Don't talk about climate change."
Instead, she focuses on health and community benefits: economic development, clean air and water, and the creation of new jobs that come with the potential for career development. Quigley outlined four steps leaders in conservative communities can follow to win support for measures to fight climate change.
First, understand what the community's assets are and how they intersect with one another. (Communities with a clean energy grid might need to focus instead on transportation to create meaningful results.) Next, don't work in isolation. Banding together with other cities can help a jurisdiction negotiate better deals with electric utilities, for example. Third, get businesses—especially anchor employers like hospitals or universities—and local chambers of commerce engaged to add leverage and clout to the effort.
Finally, make sure financiers and elected officials are involved from the get-go. That can help if you need to access green bonds, funding through opportunity zones, or one of the many other financial tools available.
"It's not enough to have a great strategy, to have done all of your coalition work, to have created an opportunity to invest in renewable energy, if you don't have the skill set, the brain power, and the access to the capital," said Quigley.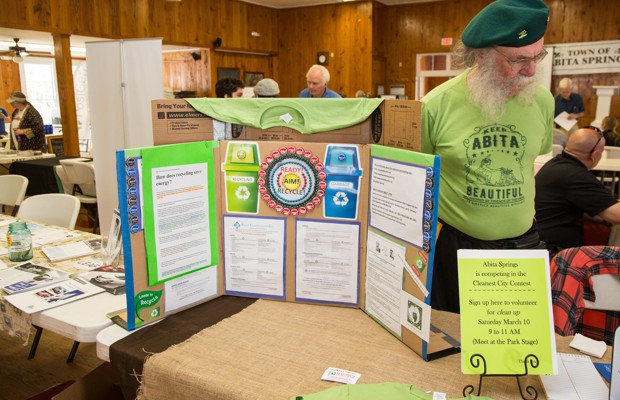 In Abita Springs, Lemons joined forces with the legal minds at nearby Tulane University in New Orleans to file a series of lawsuits aimed at stopping the fracking project. In the end, the town lost. But the journey persuaded Lemons and the rest of the town's leaders that fossil fuels were incompatible with the Abita Springs of the future.
The first time the Sierra Club had come calling on Lemons, "I really didn't warm up to them very much," he said. The group seemed too political, too heavily Democratic. But the second time it came around, he listened. Abita Springs joined Blacksburg; Pueblo, Colorado; and other Republican cities to sign on to the Sierra Club's Ready for 100 campaign, committing to shift to 100 percent renewable energy by 2030.
The town plans to install solar panels on all eight of the buildings it owns, make town hall more energy efficient, and replace all its street lights with LEDs. Tesla recently announced that it would install four electric-vehicle charging stations in town.
"All I know is, we've got to move to something more sustainable. We have to move away from fossil fuels," said Lemons. "We have to have a balance of life." For other leaders in conservative communities, he has a message: "I want people to understand if we can do this in Abita Springs, in an oil and gas state, anybody in this country can do it."
Source
https://www.citylab.com/environment/2018/09/spotted-at-the-climate-summit-republican-mayors/570439/?utm_source=feed
Please follow and like us: